Beret Stealth™
Professional Cord/Cordless Trimmer
PROFESSIONAL: Highly efficient and durable Lithium-Ion battery without memory effect. 75 minutes run time and 60 minutes charging time.
DESIGN: Appealing black stealth design.
ERGONOMIC: Super slim, super quiet and light in weight.
EXACT: Quick-detach black chrome-plated blade set. Ideal for close trimming and outlining.
COMPACT: Compact charge stand ideal for any workstation.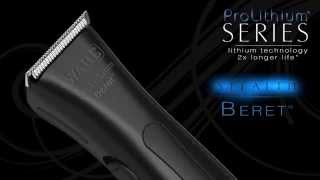 WAHL Cordless SuperTaper - Product Video
Play video!
Specifications
Art. No.: 08841-1516 black
Battery Charging Time: 60 min.
Battery Operating Time: 75 min., Li-Ion
Blade: Quick-change system, Black Chrome Blade
Cable Length: 2.3 m (plug-in transformer)
Mains Operating Time: Continuous operation
Operation: DC Motor, 6.000 1/min.
Kit includes: 4 attachment combs #1 (2.5 mm), #2 (6 mm), #3 (9 mm), #4 (11 mm), charging stand, plug-in transformer, cleaning brush, oil, blade guard