Best suited for detail trimming around the face and between the paws. It clips even the finest of fur!
WAHL Vetiva Mini
Professioneller Tierhaar-Akku-Trimmer
Die neueste WAHL für Detailarbeiten!
LATEST TECHNOLOGY:
Langlebige und hoch effiziente Li-Ion-Akkus ohne Memory-Effekt
mit bis zu 75 Minuten Laufzeit und 45 min Schnellladung!
Super flexibel: im Netz- oder Akkubetrieb einsetzbar.
COMFORTABLE & PRECISE:
Professioneller Edelstahl-Konturensch¬neidsatz "Made in Germany".
Hautnaher, sicherer Schnitt mit 0,4 mm Schnittlänge. Optimierte Fell-
führung und leichte Reinigung durch geschlossene Schneidsatzrückseite.
Leicht abnehmbarer Schneidsatz mit nur einem Klick!
CONSTANT POWER:
Automatische Drehzahlregelung für konstante Schneidleistung selbst in
schwierigem Fell.
ERGONOMIC:
Super leicht und leise. Nur 120 g. Nahtloses Gehäuse für zusätzlichen
Komfort und einfache Reinigung.
INTELLIGENT:
Druckschalter mit integrierter Ladekontrollanzeige.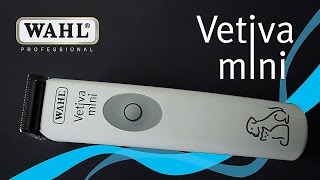 Vetiva Mini Product Video
PLAY
Specifications
Battery Charging Time: 45 Min. Schnellladung
Battery Operating Time: bis zu 75 Min., Li-Ion, Netz-/Akkubetrieb
Mains Voltage: 100-240 V, 50-60 Hz
Operation: DC Motor, ~ 5.500 rpm