Bravura Lithium
Our newest WAHL with Lithium Power! Professional cord/cordless clipper with an outstanding design! With fine-tooth blade set "Made in Germany" - ideal for removing matted fur!
Bravura Lithium™
The latest WAHL with lithium power!
Professional cord/cordless animal clipper/trimmer
Chrome-plated precision blade set "Made in Germany", simple to remove for easy cleaning. Integrated cutting length adjustment 0.7 - 3 mm. Fine tooth blade set - ideal for removing matted fur!
Powerful DC motor, low vibrations, outstanding noise absorption. Soft touch inlay on the lower housing for an optimal handling.
A durable and highly efficient lithium ion battery without memory effect provides up to 90 minutes of power. With rapid charging within 60 minutes.
5 Step LED battery level and charging indicator.
INCLUDED: 6 attachment combs 3, 6, 9, 12, 18, 25 mm, energy-efficient plug-in transformer, charging stand, cleaning brush, oil.
As an additional accessory to help you in your professional work we recommend the complete stainless steel slide-on attachment comb set.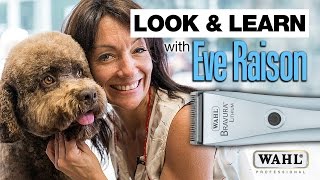 WAHL BRAVURA by EVE RAISON
PLAY
Specifications
Battery Charging Time: 60 min.
Battery Operating Time: up to 90 min., lithium
Blade: Quick-release blade set, width: 46 mm
Cutting length: 0.7 – 3 mm
Mains Voltage: 100 – 230 V, 50 – 60 Hz
Operation: DC motor, ~ 5,200 rpm